"A Headful of Fancies is fine in itself," is the first line of the first song of a musical journey I more than fancied discovering since hearing of its imminence. Den's writing muse has not deserted him in the six years between 2009 and now when he released his previous CD Be Where You Are. The eleven songs are thoughtful, witty and intelligent with impelling choruses and elegant tunes tailored for singability.

There are two instrumentals on here; Dance of the Hobgoblins, a complicated piano piece written when Den was only 15. Penultimate Orders is a 3 minute guitar looping maze of a tune. He plays this live, solo, without safety net, and apparently without fear.

Den multi-tracks his way through the list with only Louise Miller's added fiddle on track four and a chorus of names I recognise on tracks 1 & 2 [Griffiths, Hall, Kiff, Levy, Lunn, Miller, Miller (no relation), Powell & Williams]. A mighty sound ensues. But these songs all stand up equally well unadorned, indeed some demand it. Things Can Always Get Worse works as well on a 12 string as it does on 12 instruments, and Day's Run Away's West Coast sounding arrangement can equally resonate on six strings, such is the sophistication of Den's tune making.

Den's habitual big grin migrates to the listener's face increasingly with each track, so grab this CD and grin-along-a-Den.
Jim Ellison, (C) Tykes News magazine

The room was full of audience: the audience was full of anticipation: the stage was soon full of talent.

I've been to many album launches in my time from the excessive (inflatable pigs and giveaway Walkmans) to the futile (the album wasn't available to play and the artist didn't turn up).

This one got it right. First of all great support – not just from the audience: Sian & Tony Levy, making a welcome stage return, Sian taking advantage of sore throat to belt out the blues; Liz Narey, suitably lighthearted; Steve Jones with an unusually pop-slanted set, including his remarkable version of A Whiter Shade of Pale.

And then Den Miller Told his tale.

Over two highly enjoyable sets, he performed every song from the album, effortlessly shifting from electric guitar, to keyboards, to acoustic guitar, joined for some songs by Jennie Kiff from Strid. Clearly warming to the positive reception, Den performed with authority and aplomb, ranging across folk, rock, pop, love songs, comic songs, protest and even a cheeky Dylan pastiche. Sensibly, he didn't rely on all new, unfamiliar material; instead, he introduced some of his best known stuff from earlier albums over the two sets: he even began with an apposite song from his very first release.

In the second set, he featured the two instrumentals from the album – jaw-dropping evidence of his musical talents…especially when he informed us that Dance of The Hob-goblins was written when he was 15!

Was it a hugely enjoyable gig? Was it a great launch event? Was there a queue to buy the CD at the end? Yes, Yes, & Yes!
Nigel Schofield, (C) Tykes News magazine

Den's songs are masterly: remarkably strong creations with an acutely developed pop/indie sensibility; well-crafted, first-time-accessible, often earworm-catchy, brilliantly arranged, and (in spite of all the odds) sporting a generally positive and forward-looking outlook (and a keen sense of humour) even when they deal with or discuss weighty matters
David Kidman, Fatea Magazine
Read the rest of the review here.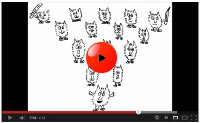 Dance of the Hobgoblins is finally on YouTube!
"It's nearly 30 years since I first played this composition of mine. I remember getting the really encouraging response that adults give to kids: "Wow, that sounded exactly like.... " something I forget now. It's an instrumental piece called "Dance of the Hobgoblins", and we used to play it in the very first incarnation of The Spooks. I can't remember exactly The Spooks' arrangement, but I thought it was about time I recorded it. I have written an entirely new intro and ending for it. I think the previous intro probably went something along the lines of "one! two! three! four!!"

It's a bit different to what I usually do nowadays as an acoustic musician, and I don't really know how I would record this properly in a studio and where I would put it on a forthcoming album. However, I have had such a lot of fun recording it, and the kids have had a lot of fun working out a dance to it, so I hope you all can have fun listening to it.

Maybe you can tell me what song it's supposed to sound like!
Den ventured deep into the beautiful Yorkshire Dales to perform for the first time at Ingleton Folk Festival's Comedy Song Competition. Den's song, "Do Not Delete", came second out of fifteen entries.
"The winner this year was Andy Hill with "Wearing High Heels" - Andy had the audience in fits of laughter all the way through the song. The second prize went to a very worthy competitor - Den Miller with " Do Not Delete" - A very cleverly written song , beautifully performed. Andy and Den both write their own songs and have made CDs."

More details and pictures
here.
Den was chatting to Tina Watkin about songwriting on her Writers Circle radio programme, and played 2 songs. Broadcast 6pm 28th August 2012, and listen again
here.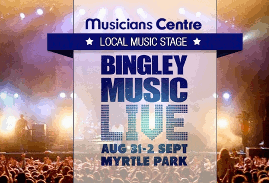 What a great pleasure to receive an email like this!
Good News!
We'd love you to play on the Bingley Music Live Local Stage we are Hosting 31st August, 1st September, 2nd September
We have spent many hours going through all the applicants, there were 151 bands in total and through fighting, shouting and tears we managed to whittle it down to 20 we felt were the best Bradford had for the Bingley Music Live local stage. You were amongst them.
And it's now been made official - see Bingley Music Live's news page
here.
Leeds record label Leeds Mayhem / Broken Heart Underground release a compilation album in aid of Asbah, a charity that works with children and adults with Spina Bifida and/or Hydrocephalus. The CD - titled 'White Noise' - contains 20 tracks and all proceeds are going to the North & West Yorkshire sections of the Asbah charity. You can buy the album for £3 (plus £2 p&p) from the Broken Heart Underground website, where you can also donate money to the charity.
LMS Article
Broken Heart Underground
Leeds Mayhem
Here is Jim Ellison's review of "Be Where You Are" in full as published Tykes News.
Den has swapped his nylon strung guitar for the folkie's weapon of choice: steel string. It rings out with complete assuredness on track one 'It Might Not Rain Everywhere'. Hard to believe in these damp days I know, but Den believes. It shines through the lyrics of hope for his, and our relationships. A visit to Anne Frank's house in Amsterdam was the trigger for 'Your House'. I wonder how many songs or poems have been written after visiting such an atmospheric place. It must shake you to the core when you realise how close to safety the Frank family was, with the Allies only one month away from liberating Amsterdam. And, to cap it all, Anne finally dies of typhus in 1945, again only a few weeks before her camp is liberated. Phased electric guitar launches track 9, 'Be Where You Are', as Den takes us into his own world of sound pollution from mobile phones to fighter jets "Pretend there's no one to text to, talk to the person you're next to". It's good advice, that. We have to wait for track 12 to be told to 'Hold On'. Anthemic words and symphonic piano make up this completely satisfying finale with a very singable refrain. My folk club took it up with such pleasure you might have thought they'd been singing it for decades. It's the mark of a really good song. If you want to know more visit or if you want to contact Den (and I can't imagine why you wouldn't want to), drop him a line at info@denmiller.com. "I'd just rather be me" he sings and I'm glad he is.
Nashville singer-songwriter Cathryn Craig and Strawb's legend Brian Willoughby after listening to Den's new album "Be Where You Are".
Have you heard Den Miller's new CD BE WHERE YOU ARE? OMG, he is writing some amazing songs and performing better than ever. We saw him on Thursday night and he has really come into his own as a solo performer. We listened to the new CD all the way back to London on Friday and I am blown away with the things he is writing about and how he is using his lyrics. Definitely a must see, must buy for anyone interested in great songs. A wonderful artist, don't miss this!
"Still A Beautiful World" has been chosen as one of four finalists in the 2009 "Raise Your Banners" political songwriting competition. The political sentiment in the song is subtle, a feeling of powerlessness and helplessness in the face of stupid political decisions at work and in the country.
The final is on Thursday 5th November, so come and cheer Den on!
And it turns out that some of the songs below got ditched! See the discography page for more details.
Den's target for 2008 is to record the next album. Most of it is written, and some of it will be known to regular listeners of Den's live performances. So although the final line-up has not been decided, rest assured that the likes of "What's It Take To Make You Smile Again?", "Starship Entropy", and "Having The Time Of Our Lives" are almost certain inclusions. The album is likely to be mainly acoustic, which should please Den's current audience!
Here's the review of "Still A Beautiful World" (the CD) as published in the Winter 07/08 edition of Tykes News.
I'm used to hearing Den solo with his nylon-strung classical and high, robust voice, so the opening shots of 'You Lift Me' were a complete surprise. The hollow clang of a cowbell signals a perspective shift, a piano soars from the speakers while a bass ambles over to find out where the party is and a high-hat skips along behind shouting 'me, me, me', whilst Den's voice, a little too far back in the mix, tells us that he's... 'Gotta hand it to you, it was all I could do to keep my head high...'. It's a powerful start to the CD, but is it folk music?
Ten tracks are made by Den with 'Down By The Riverside', you'll know it as 'Study War No More', making up the total of eleven. Sung a capella and in harmony, the ensemble members aren't named and I suspect electronic trickery. But it's good electronic trickery. Den has used the familiar protester's method of re-directing a well known song to his own ends, in this case owning up to imaginary WMDs, bringing home the soldiers and asking forgiveness for atrocities committed.... Nah, it'll never happen.
'Maybe Is Just A Word' starts with a powerful solo piano then joined by bass and drums as the piano changes to pumping chords. The coda changes back to solo piano and fades away. Not as cliched as it sounds in this instant, the song needs that touch of uncertainty. The song is (I think) about the doubtfulness of following your chosen path through life and should you get off the roller coaster, if, indeed, you can (or it might not be).
My favourite track, 'Standing Or Falling' marks a return to the guitar work with a breathless, urgent delivery that brooks no refusals, insistently breaking through indifference or inattention. 'Don't give up your day job' he sings, and unfortunately he's right, it's practically impossible for a muso inhabiting the grey area he does to earn a decent, iPod owning, abroad holidaying, living. But above all he has to continue his music making no matter what others think. He's 'answerin' the callin'...'
And it's not folk music, but as he proves on his visits to our cluib, his music is open to interpretation and it works well with just voice and guitar as well as a well 'ard core band and he has plenty of reason to keep his head high.

Reviewed by Jim Ellison, and this text is copyright (C) Jim Ellison.
Still A Beautiful World (the song) got a very good review.
What a great song. I hope you don't mind if I liken you to the better cerebral artists of the 80s - Bill Nelson, Split Enz, XTC etc. A beautifully crafted song which starts delicately and when you hear the guitar you know that this is someone who works hard to get things just right. Great, intelligent lyrics. I like this. I like this a lot. Going to be singing it to myself all day tomorrow.
Scubadog - Yorkshire Music Collective